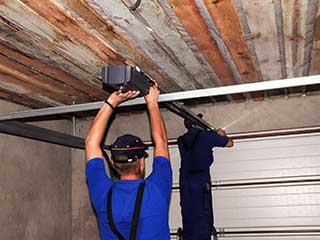 Our company is dedicated to the principle that every Boca Raton resident should be able to get their garage door repaired when they need it. It is for this very reason that we offer emergency repair services. We know how important it is that our customers can rely on our technicians to respond quickly and arrive to help them on the very same day.
Doors of Every Type
Whether your door is made of wood, aluminum or steel, you can rest assured that our experts can help you out regardless. We deal with roll-up doors, as well as single panel overhead systems and carriage models. In all honesty, we've been doing this for so long, we've learned how to expertly handle every type of garage door system under the sun.
Taking Care of Spring Issues
When it comes to replacing broken garage door springs, there's no service company better to call in all of Boca Raton. Whether you have torsion or extension type components, our technicians will be able to safely and effortlessly help you out. Springs are incredibly dangerous, and should never be handled without the right tools and the necessary training. We also perform routine maintenance and can make sure your torsion springs are not only well lubricated but that your extension springs are well adjusted and can adequately support the weight of your door.
Repairing Broken Cables
Just like your springs, your garage door cables can also be dangerous to handle. Luckily for you, our top-tier technicians also perform cable repair and adjustment, and we can make sure these crucial components are restored to their optimal condition, or replaced with a more durable option.
Repairing Damaged Tracks
We can also help you when your door comes off the track. This can be a result of many different issues. Sometimes a track can become bent and will either hinder your door's movement or cause its panels to come off. Clearly, this is incredibly dangerous, as most garage doors can weight upwards of three hundred pounds. We'll repair the damaged track, or replace it with a new one if the damage proves too severe.
Contact Us today
Regardless of how big or small of a problem you're facing, or if you need to have the entire garage door replaced or simply maintained, our experts at Garage Door Repair Boca Raton are here to help you out. Call us today.
We also offer:
Roll up Garage Door Maintenance
New Opener Remotes & Clickers
Garage Door Cable Replacement
Extension Spring Adjustment