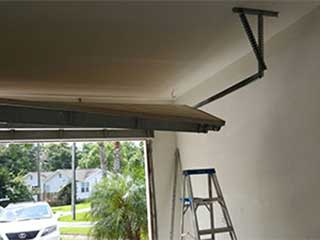 Garage doors are complex systems that use both mechanical and electronic components in order to operate. Therefore, they can be incredibly dangerous to handle, and in order to make sure both you and your family remain safe, it's best to follow a few guidelines.
Know Your Limits
While some maintenance tasks you can opt to perform on your own, mainly the inspection and some of the lubrication efforts, you should never bite off more than you can chew. It's perfectly fine and even encouraged, that you routinely examine your system's components in order to see when and if they've become too worn to function properly.
Never Try To DIY
When you think your garage door is starting to get a little noisy, slow or is experiencing any type of problem, it is always best to avoid trying to perform the necessary repairs or maintenance by yourself. Instead, you should seek the help of a professional for any necessary repairs or maintenance. This will help you avoid a lot of potential accidents, as any mishandling of components such as the springs or cables, can lead to catastrophic results.
Learn How To Disengage Your Opener
This step is akin to practicing fire drills. You want to know what to do when the emergency occurs, not have to guess. Consult with your owner's manual in order to learn how to safely switch your garage door to manual mode. It is usually done by pulling on a red cord that dangles from the opener unit itself. This should not be done as some sort of game, as any scenario in which you'll have to use this cord is an emergency by nature. If an unexpected power outage has rendered your door inoperable, and you don't have a backup battery system installed, knowing how to switch to manual mode will keep you from getting stuck inside your garage.
Test Your Safety Sensors Regularly
Every modern garage door opener is by law required to have a safety reversal system that will prevent it from closing the door while there's an obstacle in its path. This is usually ensured with a set of photo-electric eyes that are attached to each side of the garage's opening. To ensure these sensors are functioning correctly, place an object in the door's path and order it to close. If your door doesn't reverse before hitting the object, then your safety sensors have more than likely gotten misaligned, or their lenses are too scratched.
Be sure to contact our experts at Garage Door Repair Boca Raton to have our technicians take care of any necessary repairs or replacement you require.